THE Thermal Congress in pictures - 10 great moments
#1 World Tourism Day Celebrations
EHTTA took over the Cloister of San Francisco to celebrate World Tourism Day on 27th September.  The theme of "Rethinking Tourism" was perfect for the congress with its emphasis on the relatively new theme of "thermal tourism", and sustainability.  We were delighted to be joined by co-sponsor Nava Castra from Galicia Tourism, as well as other partners.  
#2 Signing the Glasgow Declaration

EHTTA President Manuel Baltar signs the Glasgow Declaration watched by Juan Carlos Baena of the United Nations World Tourism Organisation (UNWTO) Affiliate Members Department.  This follows a significant Memorandum of Understanding with the UNWTO signed in Madrid.
#3 Our first Thermal Ambassador
Alane Ball Chinian, Director of the Saratoga Capital District Region, New York State Office of Parks, Recreation and Historic Preservation became the first official Thermal Ambassador for the European Route of Historic Thermal Towns.
Truskavets in Ukraine, joined the EHTTA Membership and we were honoured to meet Mayor of Truskavets Andriy Kulchinsky in person in Ourense.  
#5 President of Galicia arrives at the Congress
There was great excitement as the President of the Xunta de Galicia, Alfonso Rueda arrived at the Congress, to make a speech at the official opening ceremony
#6 Meeting key partners and speakers
The Thermal Congress allowed many key partners in this sector to meet – sometimes for the first time.
Stefano Dominioni, European Institute of Cultural Routes
Gonzalo Pérez Jácome, Mayor of Ourense
VIP Guests at the Opening Ceremony
Csilla Mezosi presenting Thierry Dubois, President of European Spas Association (ESPA)
Stefan Szirucsek, Chair of the Great Spa Towns of Europe
Paul Simons, Secretary General,  Great Spa Towns of Europe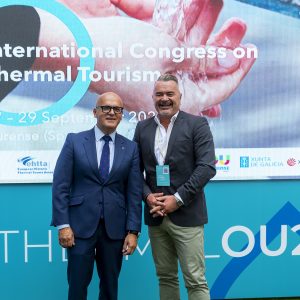 #7 Les Accros du Peignoir conquer Spain!
Les Accros du Peignoir is a movement, and a lifestyle which has been developed by EHTTA Associate Member, La Route des Villes d'Eaux du Massif Central.  EHTTA President and Governor of the Province of Ourense, Manuel Baltar, welcomed the "Bathrobe Addicts" movement to Ournese, at an event at the Termas da Outariz, where we were welcomed by Pablo Villuendas, the Spa Director. 
#8 Networking dinner for conference delegates at the Villamarín Palace.
Traditional Galician pipers and dances provided a dramatic arrival for delegates at the historic Villammarín Palace.
#9 Meeting Fam Trip Participants
Six tour operators who specialise in travel to Spain and Portugal joined a Fam Trip before and after the Thermal Congress, visiting Caldas da Rainha, S. Pedro do Sul, Chaves-Verín and the Province of Ourense before embarking on a "Thermal Pilgrimage".  
The Fam Trip was supported by the European Travel Commission, and it was good to see the ETC's Head of Marketing and Communication, Miguel Gallego both at the Congress and joining the Thermal Pilgrimage to Santiago da Compostela.
#10 EHTTA at Termatalia Exhibtion
Several partners joined EHTTA on an exhibition stand at Termatalia, running alongside the last day of the Thermal Congress.